Timothy Cummings was born in Albuquerque, New Mexico in 1968 where he grew up in the midst of Spanish Catholic and Native American culture, fertile with religious imagery and iconography in the churches. Murals and retablos he saw depicting death, martyrdom, and Day of the Dead imagery influenced him.

Cummings is completely self-taught. While most of Cummings's paintings are dream-like fantasies filled with myriad detail and discovery, each has a figure or figures. Much of Cummings's work addresses the issue of youthful turmoil, of that awkward moment between childhood and adulthood, of identity, of gender. The artist often paints figures as a child might conjure them in his/her mind, giving a dreamlike, fantasy quality to a grown-up persona as he has done in this painting. Mostly intimate in scale on small wooden panels (from 8×10 inches to 38×48 inches)

Cummings's acrylic paints, carefully and meticulously created, suggest a master's technique with imagery that could only be contemporary. Inspired by Renaissance paintings as well as by primitive art, Cummings's new works transport the viewer from this world into a world of transformation where anything is possible.
Black Rock Editions welcomes Timothy Cummings to the shop. Over a course of four days, taco truck tacos, and some pretty awesome playlists, both artist and collaborators ended up with two editions; an etching and a lithograph. Follow us on instagram for updates.
---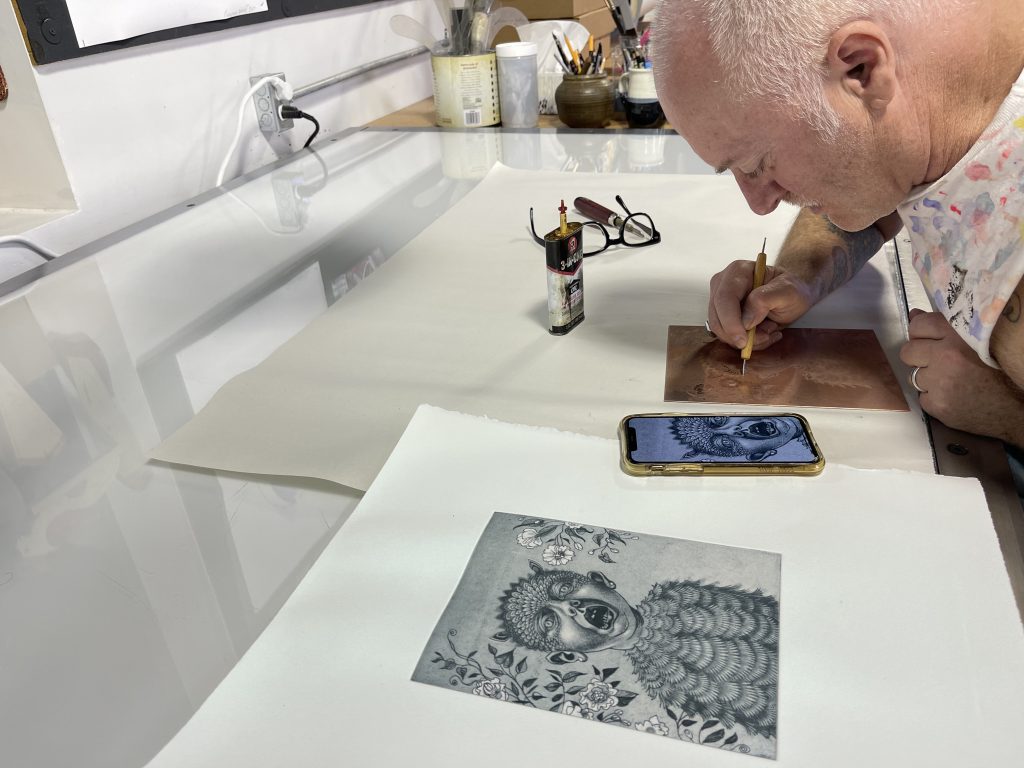 NIGHT OWL
"'Night Owl' a variation of a painting I made many moons ago. The image is an amalgamation of favorite symbols… Bird Children, Transformations, Mythology, the delicate and the Dramatic, Nocturnal things, hybrid Creatures, flowery Ornament and Queer Horror.

It was great to revisit the image and the speed to which the drawing took form was startling. A rare moment when the image simply manifest itself. The three days working in the print shop and the creation of two separate editions was a true joy and education. I attribute all the magic to the trust and talents of the fabulous team at Black Rock Editions. A truly fantastic atmosphere for the alchemy of making art." – Timothy Cummings, 2021
---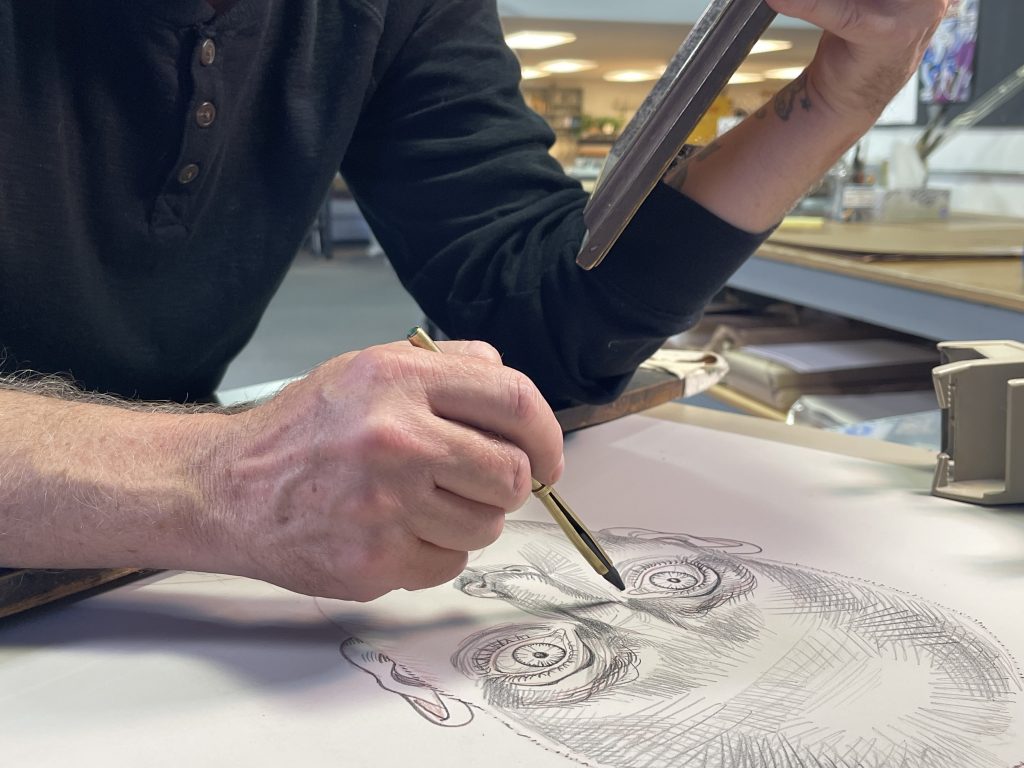 WITCH'S VEIL
"Donning the Witches Veil gives you clairvoyant visions while keeping you well hidden. Another attempt at a naked self-portrait, yet still hiding behind a veil. Thanks again to the team at Black Rock Editions for all of their freeform fun creative magic in conjuring up the perfect print. I had a blast bringing this one to life." – Timothy Cummings 2022
---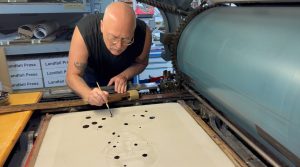 SPOT PRINTS
"Spot prints are a revisit back to a series of paintings I did in 2001 called "Spot Portraits." The spot portraits were a manifestation of my fears growing up in the time of the AIDS/HIV pandemic. While working on this new series of spot prints, I started calling the spots 'Covid Holes'. Revisiting and producing the spot prints now in the time of the Covid pandemic was another purging of new but familiar fears." – Timothy Cummings 2022
---